Star Trails and Zodiacal Light over Koornlandskloof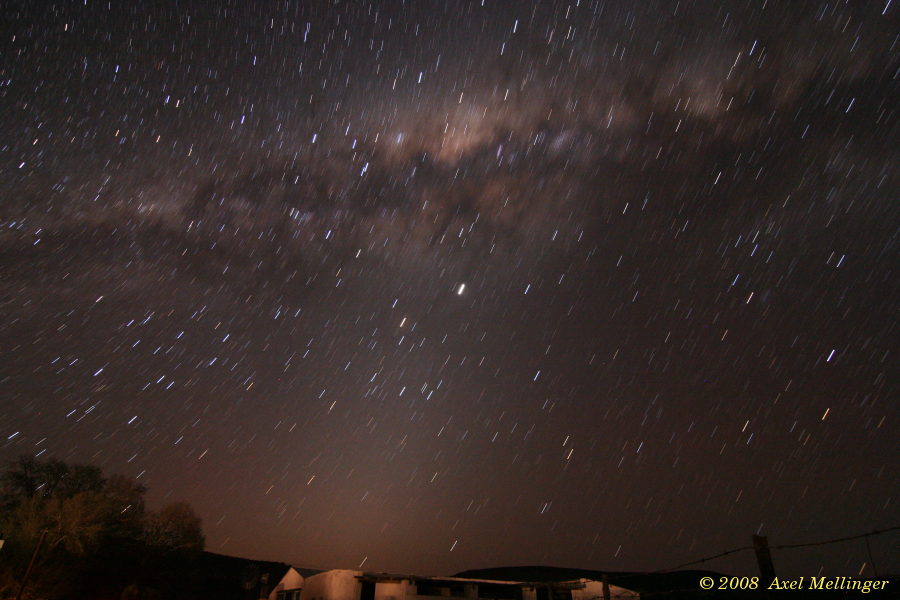 Koornlandskloof Guest Farm is located in the Roggeveld Mountains, approx. 35 km northwest of Sutherland, South Africa (32° 13' 34" S, 20° 20' 48" E, elevation approx. 1300 m) and run by Lampies and Aret Lambrechts. Due to its altitude and the arid climate, the night sky is of exceptional quality.
In October, the zodiacal light is easily visible as a glow stretching from the western horizon through Scorpius and merging with the Milky Way. It is bright enough to severely impact deep-sky photography in this part of the sky.
| | | |
| --- | --- | --- |
| Camera | : | Canon EOS 350D |
| Sensitivity | : | ISO 800 |
| Lens | : | Tokina 4/12-24 mm @ 12 mm, stopped down to f/5.6 |
| Date | : | 2007 October 09 |
| Exposure | : | 5 min, automatic dark subtraction |
| Site | : | Koornlandskloof Guest Farm, Northern Cape Province, South Africa |
| Processing | : | Gimp |

Back to image gallery
---

© 1996-2015 Axel Mellinger
Send comments and bug reports to: