Orion with Barnard's Loop (combined CCD/Film mosaic)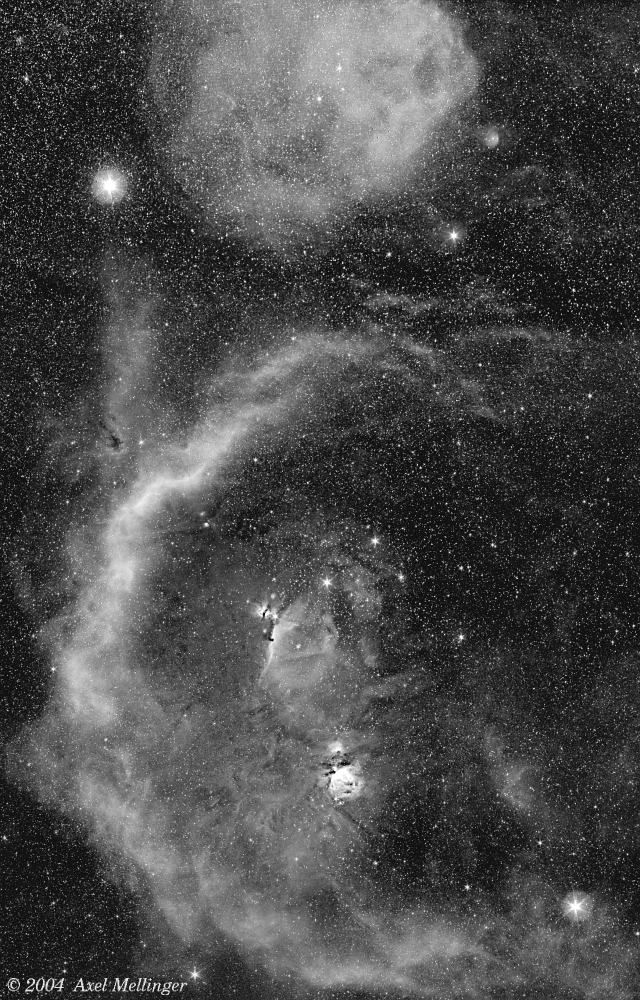 Move your mouse cursor over the image to see the color version. With the mouse off the image area you should see the Ha image. Javascript support in your browser must be enabled.

Higher resolution (1024x1600) versions: H&alpha (b/w) and color.
The constellation of Orion features one of the largest emission nebulae in the sky: Barnard's loop (discoverd by E. E. Barnard around 1900), which was probably formed by a series of supernova explosions some 3 million years ago. Also visible are Great Orion Nebula (M42, overexposed) and the Horsehead Nebula.
This Hα/color mosaic is a combination of many CCD and film images, recorded over a time span of four years. The Hα frames are the most recent and show McNeil's newly discovered nebula (see this enlargement). 8 fields were photographed from locations in Germany and South Africa and stitched together using techniques developed for assembling my all-sky panorama. The color mosaic was recorded on Kodak PJ-400 negative film at Organ Pipe Cactus National Monument, Arizona. Both the red and luminance channel were replaced with the Hα data. Total exposure time: approx. 8.5 hours.

Lens
:
Hα: Minolta 1.4/50 mm lens, stopped down to f/2.8 or 2.4
Color: Minolta 2.8/135 mm, stopped down to f/4
Camera
:
Starlight Xpress SXV-H9 and Minolta SRT-101

Mount(s)
:
Losmandy G-11 and Super Polaris DX

Filter
:
Astronomik Ha (13 nm FWHM)

Guiding
:
ST-4 autoguider (Hα only)
Date
:
Hα images: 20 Feb. 2004 (Germany) and 23 Mar. 2004 (South Africa)
Color: 31 Dec. 1999, 03 Jan. 2000
Exposure time
:
Ha: each field 2x15 min; color: each field 45 min
Site
:
Hα: Baruth, Brandenburg (Germany) and Ezeljaght Farm near Sutherland (South Africa).
Color: Organ Pipe Cactus National Monument, Arizona.

Processing
:
Bias subtraction, dark frames and digital development: IRAF;
mosaic assembly: SExtractor, Match, custom software and Swarp;
Post-processing: Gimp

Back to image gallery
---

© 1999-2004 Axel Mellinger
Send comments and bug reports to: axm@rz.uni-potsdam.de